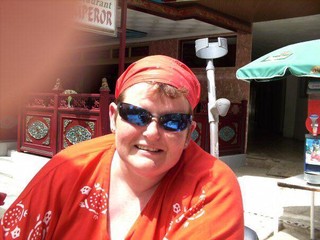 #TeamAbbotts are taking on the Stafford Half Marathon
amb's MD Andrew Barrow is warming up to join friends and family of Sharon Mason (nee Abbotts) in raising funds for the MS Society and Headway North Staffordshire.
Shaz, as Andrew knew her from school, made a difference to many lives before she passed away little over a year ago from Multiple Sclerosis, aged just 45.
A mother, daughter, teacher, sister and friend, she was one of the bravest people we know, and we'll be forever grateful to the MS Society for their support when Sharon most needed it, and to the Headway North Staffordshire for acting as her second home.
And so it seems only fitting that these two incredible charities are the focus of #TeamAbbotts fundraising efforts as we tackle the Stafford Half Marathon.
We'll be running and pushing Sharon's sister Gilly Abbotts in her wheelchair in order to raise funds so that the MS Society and Headway North Staffordshire can continue to provide care and support for those with MS or a head injury and their families, just as they did with Sharon.
Please help us as we raise funds, and a salute to Sharon, by sponsoring us here.
Follow the hashtag #TeamAbbotts on Facebook and Twitter to see how the training's going!
Thank you for your support.