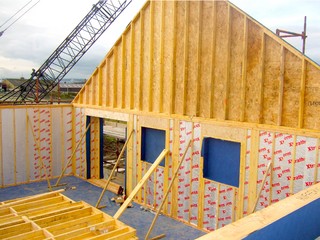 Timber Frame Buildings and Fires!
This article is based on incidents within Newcastle, Peckham, East London, Camberwell and Basingstoke.
All these timber fires has led to a position statement by CFOA which reads:
"In light of the recent significant fires involving large timber framed buildings under construction including Peckham, Camberwell and Basingstoke which all resulted in fire damage to adjacent buildings, CFOA is now calling for an urgent review of the Building Regulations to consider the issue of external fire spread from fires involving construction sites. Large timber framed buildings under construction pose a significant risk to firefighters, construction workers and members of the public."
Timber framed buildings are one of the greatest risks of a fire as these are the early stages of construction. Therefore, guidance and initiatives have been created to attempt to reduce the risks of fires.
UK Timber Frame Association (UKFTA) has given a clear guidance within SiteSafe which ensures UKFTA manufacturing companies which are working on large projects. Large projects include 4 storeys or more, these can have aggregate floor areas of more than 2,500 m2. This gives a clear brief of information and assistance to the Principal Contractor and the fire safety on their construction sites.
SiteSafe has ensured that all the contractors who are involved with timber frame sites are fully briefed. This is on information like identifying fire risks during the entire construction phase. The responsibility for addressing the fire risks as a whole is down to the principal contractor. SiteSafe provides the framework for any risks which can be consistently communicated, this way the right actions can be taken.
A document called '16 Steps to Fire Safety on Timber Frame Construction Sites' has been created by the UKFTA and is expected to apply to the 'Joint Code of Practice on the Protection from Fire of Construction Sites and Buildings Undergoing Renovation'. These have both been published by the Construction Federation and The Fire Protection Association.
If you'd like a refresher on this topic, you can read the full article, click here.