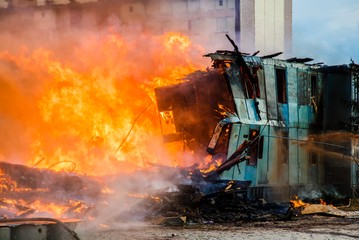 5 rules to follow when claiming for arson
Claim: Arson attack on production unit
A client's business was subject to an Arson attack with an unfortunate case of mistaken identity that left a third of their unit, out of action for 4 months.
Tim was notified that there was a fire at his unit in the early hours of the morning, the unit where he packed and finished his products was completely burned out.
Swift
We met Tim and the Insures on site early in the morning. The insurers quickly agreed on a partial settlement in order for him to meet his cash flow demands.
Don't cut corners
Early in the process, Tim explained that he was underinsured for his stock and that he was enjoying an extraordinary period of growth. He admitted he had ignored our advice and knew his business interruption period should be a much longer period.
Keep production running, protect your reputation
Tim's production was obviously affected during this period, he had good relationships with other manufacturers who he could ask to complete much of the production, however, and his profit was lost. The business interruption part of his policy would address this loss and loss of gross profit would all be paid by the insurers.
Be meticulous
Together we went into great detail about the damaged items to ensure that everything was replaced appropriately and we prioritised those items that were needed immediately for his production.
Business Interruption Period
Tim was offered two contracts by his usual contacts, due to his lack of capacity he could not take on this work.
The work would be an initial contract, followed by two more consecutive years. At the start of the policy he had decided to limit his Business interruption Period (Indemnity Period) to just 12 months he could not claim for the lost income from year 2 and year 3.
Conclusion
The two contracts over 3 years were worth £200,000 turnover, circa £60,000 income, Tim was only paid £20,000 as a result of his earlier decision.
The total claim was paid totalling £200,000.  Tim could have claimed closer to £300,000 if he had followed our advice. He's now adjusted his policy and very willing to pay the small premium he saved.
Want to know more?
Download the government's guide on fire safety in the workplace – find more information at www.hse.gov.uk/pUbns/priced/hsg168.pdf
Find out more about who is responsible for fire safety in the workplace at www.gov.uk/workplace-fire-safety-your-responsibilities/who-is-responsible